Mountain Dragon by Bradley Clemmons $19.75
A NEW MYTH OF THE ENLIGHTENED FEMININE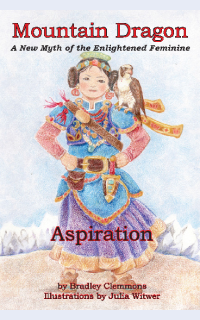 A dark, evil force, able to strike with overwhelming power has descended into the western deserts of the Middle kingdom. With one blow he has shattered the political hopes of two nations. One little child survives, a child who has the potential and who will one day have the strength to make all the warring factions of this region stop and take notice.
This riveting saga spans lifetimes, weaving spirituality, magic, and the bonds of love and karma. in this opening volume as we meet our heroine the reader is propelled with her on a journey of mastery and enlightenment.
"Sometimes peace can come in the most ambitious of packages. "Mountain Dragon: A new Myth of the Enlightened Feminine: Aspiration" is a read telling of a far off land where war has consumed the land and one young girl must stand against the fierce fires of war to bring about peace. With much thought in mythology and legend, "mountain Dragon" is a fascinating and highly recommended read." Midwest Book Review
ABOUT THE AUTHOR
Bradley Clemmons, a dedicated member of our Nyingma community, has recently published Mountain Dragon, the first in a set of novels influenced by his appreciation of Tibetan culture. When the vision of Mountain Dragon came to him through a Tara inspiration, Bradley began long years of writing and editing, encouraged to develop this theme by members of our broad community of friends and Dharma students. As a generous expression of gratitude and caring, Bradley has dedicated a large portion of his royalties to Nyingma Trust to support the health and longevity of the Nyingma community.

Purchasing, reading, gifting and reviewing this book where it is sold helps broaden its presence in the world and generates royalties that benefit our Sangha.
If you want to preview the first few pages of Mountain Dragon, click here.
Copyright © 2010 Nyingma Trust. All Rights Reserved