Tibetan Prayer Flags can be found strung along mountain ridges and peaks high in the Himalayas. Traditionally they bear woodblock prints of Buddhas and Bodhisattvas, as well as prayers invoking the blessings of the enlightened ones. As the wind blows, the prayers stream out to bless the surrounding countryside and the world beyond. All our flags were designed and blessed by Tarthang Rinpoche.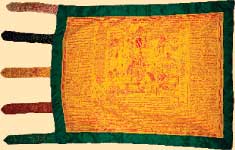 King Gesar Flag - $200.00
Our large Gesar Flag is silkscreened onto 200 denier nylon, which can withstand stormy winter weather. The flag's images--King Gesar as a manifestation of Padmasambhava, guardian animals and symbols--along with the prayers on the flag, join with its five chevrons to send out blessings that travel on the wind to heal the suffering of all beings. This strong beacon of prayers flies most freely when flown from a flag pole, roof pole, or ship's mast.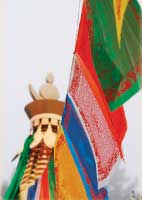 Nyingma Prayer Flag Sets
Our Prayer Flag sets are made at our Nyingma Centers in São Paulo and Rio de Janeiro, Brazil. Using a transfer process, they are printed onto a strong, yet silky synthetic fabric that blows gently in the breeze. All sets include peaceful and protective deities in the 5 Buddha family colors of white, blue, yellow, red/orange, and green. Among the dieties are the Medicine Buddha, the Enlightened Buddha, Manjushri, Avalokiteshvara, Vajrapani, Padmasambhava, Tara and King Gesar. Each flag is 27" x 30".