Benções da Estupa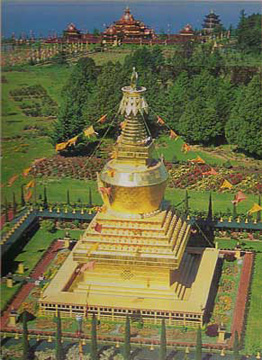 Estupa de Odiyan com um templo por detrás
A estupa é uma estrutura que simboliza a mente iluminada. Por a forma, a estupa faz desaparecer a força do caos, e a negatividade faz mover o ser humano em direcção da iluminação. Providenciando nenhum sitio para o ego existir, a estupa é puramente receptível a devoção, e reza directamente em direcção à paz e harmonia em torno dos seres vivos. Promove ordem na natureza e nos cosmos maiores, protegendo-nos de desastres e nos curando das preocupações do coração humano.
Um oceano de benções irradia fundamentalmente da forma simbólica da Estupa de Odiyan, das rodas de orações, e das relíquias de Buda Guatama e os mestres Tibetanos. Mais do que um símbolo, a iluminada estupa de Odiayan transmite poder de iluminação.
Aqueles que honram a sua presença podem experienciar directamente as benções. A arquitectura antiga tem o poder de responder a várias orações: curar doenças, ajudar na transição de morte e renascimento, aumentar atenção, curar negatividade e prevenir desastres naturais. 
Click to contribute towards the Nyingma Community, your loved ones, or a favorite cause by scheduling an offering of prayers on Buddha's Enlightenment Day, May 27th 2010
Copyright © 2010 Nyingma Trust. Todos os Direitos Reservados.